By the D23 Team
Almost a month before grand opening, D23 Gold Members were able to say "bonjour" to EPCOT's nouveau expansion featuring Remy's Ratatouille Adventure!
The morning began before the park opened, as guests were welcomed with a commemorative credential and boarded a motorcoach that whisked them away to the beauty and charm of the France pavilion.
As the sun rose over the Eiffel Tower, members gathered in the gorgeous Palais du Cinema (home of Impressions de France) for a special presentation on the making of EPCOT's newest attraction.
Guests were in for a treat with an exclusive presentation by Gary Landrum, Show Awareness Producer with Walt Disney Imagineering (who just celebrated 44 years with Disney!)—who took members on the ultimate "Sketches to Reality" presentation of how Pixar Animation Studios and Walt Disney Imagineering brought this beloved story to the World Showcase.
Gold Members were then able to explore the newly expanded France pavilion, discovering some of the hidden details from the presentation while they enjoyed either a Crêpe Noisette Chocolat (house-made hazelnut & chocolate spread crêpe) or Crêpe Fruits Rouges (red berries crêpe) from the new La Crêperie De Paris. And of course, the main attraction, Remy's Ratatouille Adventure, was available—with Gold Members being able to experience it multiple times during our exclusive preview window!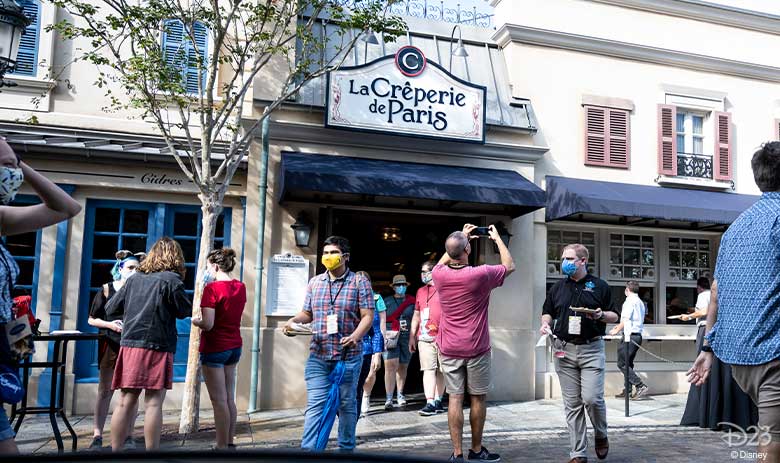 In this 4D ride experience, guests join Chef Remy on a daring culinary caper that captivates all their senses as they zip, dash, and scurry through the bustling kitchen, dining room, and walls of Gusteau's famous Paris restaurant.
Not leaving empty handed, guests ultimately received a special commemorative print by Harley Jessup—the award-winning production designer behind the film Ratatouille—featuring artwork of Remy's kitchen created to inspire a scene in the attraction.
A special thanks to all our D23 Gold Members for joining us! Be sure to check out this article to feast your eyes on some of the delicious details of the France pavilion expansion. And if you missed last year's D23 Fantastic Worlds Celebration, you'll can also hear from Pixar's Roger Gould and Harley Jessup along with Tom Fitzgerald from Walt Disney Imagineering about the making of Remy's Ratatouille Adventure—watch it here!
Remy's Ratatouille Adventure opens at EPCOT on October 1, as part of the kickoff to the Walt Disney World Resort 50th anniversary. Be sure to check out this article to see all the ways you can participate in "The World's Most Magical Celebration!"